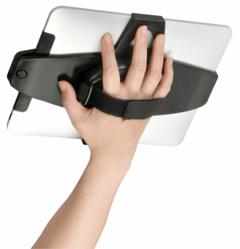 Rancho Cucamonga, California (PRWEB) October 03, 2011
Why is it so important to confront this potential health hazard early on? The professionals at LapWorks learned from the notebook experience that improper notebook usage caused ergonomic-related injuries to 1.5 million workers annually. These injuries cost industry billions of dollars in workers? compensation, healthcare premiums, company lawsuits and employee absenteeism. In many cases, employees who needed surgery lost income, and many even lost their jobs.
The iPad and its clone-like tablets are rapidly replacing the notebook as the media/computing device of choice. Some media watchers believe that iPad and tablet sales are cannibalizing notebook sales, and analysts predict that the tablet market (led by the iPad) will grow from under 20 million units sold in 2010 to 230 million units by 2015.
Although no authority has stepped forward with warnings about potential hand, neck and back injuries from excessive iPad use, there is no doubt that tightly gripping an iPad or tablet and looking down for long periods of time will most certainly cause some form of Cumulative Trauma Disorder (CTD). Ergonomists report that incidences of CTD are beginning to surface with overuse of hand held devices.
So how does one avoid CTD when using the iPad? The simple answer is to change the way you hold the device. Since iPads don?t come with handles, a user can benefit from a simple attachment that provides a stress-free means of holding an iPad. This is where the Handler iPad Strap and Desk Mount comes in.
This innovative new iPad accessory from LapWorks is actually two separate functioning components that work as one when joined together. When used separately, the hand-held component, called the ?Handler,? is suitable for both iPads and any 9.7? to 10.1? tablet. The Handler snaps on to the back of the iPad, and the user simply slides one hand through a Velcro strap. The strap fits over the back of the hand comfortably and provides a safe, secure and effortless way of holding the iPad without having to grip it.
The Handler has a built-in swiveling hub that allows the user to easily rotate the iPad between portrait and landscape views or any position in between. The Velcro strap is adjustable, so one size really does comfortably fit all, and it fits either hand.
When it?s time to set-up the iPad for hands-free viewing, simply insert the Handler onto the desktop component called the ?Desk Mount? and voil
Tags:
Hand
,
The Handler
,
iPad
,
Cumulative